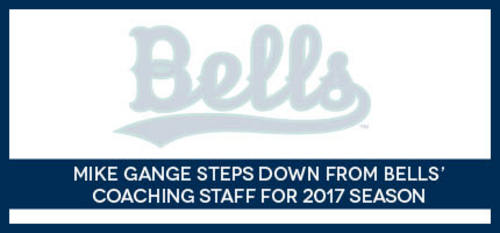 08/22/2016 3:35 PM
First-year manager Mike Gange, who led the 2016 Bells to a West Coast League championship appearance and a North Division title, has informed the team he will not return for the 2017 season. Gange, who previously served as a graduate assistant coach with the University of Washington, has accepted a full-time assistant coach and recruiting coordinator position with Pacific University in Forest Grove, Ore.
Gange joined the Bells as an assistant on Jeff James' staff in 2014. Upon James' departure for the 2016 season, Gange was named manager of the Bells. During his time with the Bells, the team qualified for the playoffs three consecutive years, advancing to the championship series two of three years (2014, 2016) and winning one WCL title (2014).
"It has been a pleasure to work with Mike over the last three seasons," Bells' general manager Stephanie Morrell said. "Coach Gange's knowledge of the game and desire to help his players improve helped our team achieve a high level of on-field success during his time here. Beyond that, Mike's high character and passion for helping young athletes develop into better players and people made him a perfect fit for our organization. While we are sad to see him go, we are thrilled for him to have this new and exciting opportunity. We wish him all the best."
Moving forward, pitching coach & recruiting coordinator Jim Clem will continue to lead the Bells' recruiting & coaching efforts and will work closely with the Bells' front office during the off-season to immediately identify potential head coaching candidates for the 2017 season.