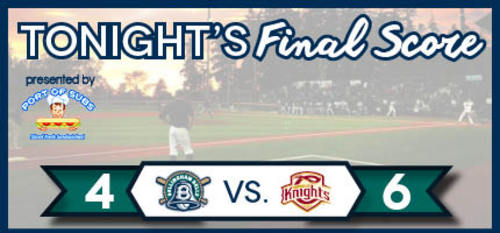 08/17/2016 5:33 AM
The Bellingham Bells came up two runs short of their final goal.
Bellingham dropped a close 6-4 decision to the Corvallis Knights in the decisive game number three of the West Coast League championship series.
Bellingham finishes the 2016 campaign with a mark of 38-24, counting non-league and playoff action.
The Bells carried a 4-2 lead heading to the bottom half of seventh, when the Knights flipped the script, scoring three runs, including two off the bat of Roman Garcia on a towering homerun.
In top half of the eighth, Jake Vieth hammered a double off the wall, missing a homerun by a few feet, for the Bells with David Banuelos on first and nobody out. But Banuelos was gunned down at home by a relay throw from Matt Kelly, and the Bells stranded Vieth at third base to end the eighth. Corvallis would set the Bells down 1-2-3 in the ninth to capture their fourth championship in franchise history.
Bellingham got on the board in the third, trailing 1-0. Andru Cardenas walked and moved to third on a Shane Hanon single. With Chase Strumpf at the plate, a pickoff move went to first and Cardenas broke for home, stealing home plate and tying the game at one. Strumpf then hammered his third homerun of the post season over the left field fence, lifting the Bells in front 3-1.
After Corvallis crossed one run in the bottom half of the fifth, Bellingham responded in the sixth. Gunnar Schubert singled to begin the rally, and after Danny Casals reached second on a fielder's choice and errant throw, the Maine Black Bear scored thanks to two more errors, one a throw by the catcher and one on the centerfielder. Casals scored from second on the two errors and the Bells led 4-2.
Joey Matulovich earned the start for Bellingham and the Cal Golden Bear allowed two runs in five innings on the hill for the Bells.
Bellingham used four different pitchers to work the final four innings. Hunter Haworth was terrific, fanning four in an inning and one third while allowing one run on a single walk, Jeff Gelinas (1-1) was tagged with the loss tossing two thirds of an inning and surrendering two runs. Josh Zavisubin recorded two outs for Bellingham while giving up one run and Sam Hellinger recorded the final out of the eighth.
The Bells reached the championship series for the second time in three years and made their fourth playoff appearance in five seasons.
Follow the Bells on Twitter, @BhamBells, and on Facebook at https://www.facebook.com/BellsBaseball. Visit the Bells website, BellinghamBells.com for more information about the 2017 season!