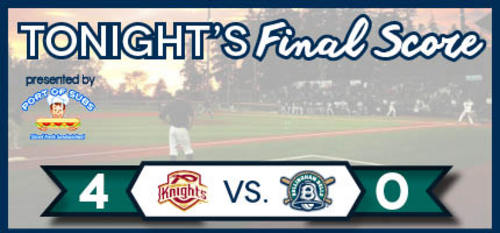 08/13/2016 8:40 PM
The Bells lost to Corvallis in the first game of the three game WCL championship series Saturday by a score of 4-0.
Corvallis got on the board first with 3 runs in the 3rd. The inning started ominously when an error by the third baseman allowed Cody Hawken to reach first. After a sac bunt moved Hawken to second Kyle Nobach was hit by a pitch. Andy Atwood then singled to drive in Hawken for the first run of the game. Another error at third base allowed Roman Garcia to reach and it also allowed Atwood and Nobach to score, bringing the score to 3-0 Corvallis.
The Knights struck again in the 6th. Andy Atwood started things off with a single to left, and a batter later Zak Taylor ripped a double to left center to score Atwood and bring the score to 4-0 Corvallis.
Spencer Howard started for the Bells and he pitched well, but ran into some bad luck. He went 5.2 innings, while only allowing one earned run on 3 hits and striking out 6, the two errors in the third really hurt Howard and the Bells and they were not able to recover. Connor Johnson and Hunter Haworth were highly effective as well in relief as the two combined for 3.1 innings of scoreless baseball and 5 strikeouts.
Jake Vieth was 2-4 with a double for the Bells, and Shane Hanon also doubled and was hit by a pitch.
The Bells will have to rebound on Monday and Tuesday night in Corvallis if they want to win their second championship in two years, and head coach Mike Gange will definitely have them ready for the final two games of the season.
The Bells take the field again Monday, August 15th for their second game of a possible three game championship series against the Knights in Corvallis at 6:40. Pregame coverage starts at 6:10 on 930 AM KBAI with Tom Prizeman.