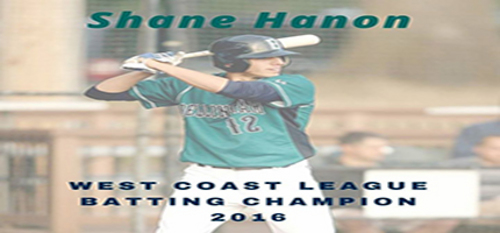 08/10/2016 11:13 AM
This past offseason, Shane Hanon was offered a spot with the Bellingham Bells as a 10-day contract player. 10-day players are vital to summer collegiate teams, as a hand full of the athletes are unable to be there for the start of the season, requiring that other players fill their spot until they are able to finish school. Shane Hanon was one of those players; a talented athlete who could contribute and compete until the full-time players were back in town. If the 10-day players play well enough, they stand the chance to make to full-time roster; though very few are able to do so.
As the dust settles from the playoff race and the 2016 regular season has come to a close, not only did Shane Hanon play himself onto the full-time roster, he also finds himself atop the West Coast League in batting average, standing alone as the West Coast League Batting Champion.
Hanon wrapped up his freshman season at Edmonds Community College this past spring, and had planned to head back for his sophomore campaign. After taking the West Coast League by storm, hitting an incredible .331 average, with 11 doubles and 16 RBI, Hanon was offered a Division 1 scholarship from Marshall University.
Everyone can take a page out of Shane's book. The odds were stacked against him in the beginning of the season, being a 10-day player from a community college. He quickly proved himself to be a dominant force in the league, and the backbone of the Bellingham Bells order. Driving home the cliché; "It's not how you start, it's how you finish."