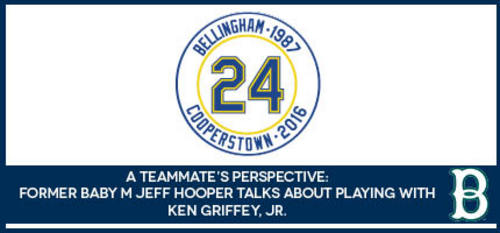 07/21/2016 2:48 PM
As Ken Griffey Jr. enters Cooperstown this weekend, we take a look back at where it all began: right here in Bellingham during the summer of 1987.
Griffey's season spent at Joe Martin Field was the talk of the town that summer, and continues to be a source of local pride as many Bellingham residents recount memories of watching young Griffey tear up Northwest League pitching during beautiful Bellingham summer nights spent at the ballpark.
While Griffey is certainly the most memorable player to take the field at Joe Martin, during the summer of 1987 he was one of many talented players on a lineup loaded with talent.
Amongst the talented hitters on the roster, one in particular outhit Ken Griffey Jr. in the 1987 campaign. His name is Jeff Hooper, a 36th round draft pick who grew up in Bellevue, WA. Hooper was a mainstay in the Baby M's lineup, often hitting in the heart of the order.
"We hit back to back most of the season. Usually third, fourth or fifth so I was able to watch him pretty closely," Hooper said. "It was a very rewarding part of my life. I am proud to have played with arguably one of the best players of all time."
Hooper was selected with the first pick of the 36th round out of Washington State University, exactly 911 picks after "the Kid" was selected first overall from
Moeller HS in Cincinnati. While Griffey went on to appear in 13 All-Star Games, win 10 Gold Glove awards and an MVP, securing his spot amongst baseball's immortals, Hooper retired from baseball in 1990 after four seasons in the minors. He currently is the Chief Financial Officer of Garco Construction in Spokane.
While Hooper and Griffey shined that year on the field together, off the field they couldn't have been more different. Hooper was five years the elder of the 17-year-old number one pick, who back in 1987, was more known for being the son of major leaguer Ken Griffey Sr. than his own playing exploits. Hooper was recently out of college in the Pacific Northwest while Griffey had just graduated high school in the Midwest. But the grind of minor league baseball brought them together as teammates.
"Ken had the same issues everyone else did with being a long way from home and playing through their first very long season. 82 games in the summer is a lot for a college guy but almost overwhelming for a high school kid," Hooper said. "We roomed together on the first long road trip of the season so you get to know a guy a little better that way. My personal relationship with Ken was very good. One-on-one, he was just another guy starting the uncertainty of minor league baseball."
Hooper recalls experiences of trying to compete directly with Griffey.
"We had a lot of fun with each other's stats," Hooper said. "I think it was important to both of us to better the other. I might have had him too if after I homered in my first at bat I didn't go 0 for my next 20. That kind of put me in a hole."
Hooper has not had any contact with his former teammate since that 1987 season. But he has always been rooting for Griffey, especially once he was in the big leagues.
"I have always been a huge fan of Ken. I grew up in Bellevue and lived there after my playing days while Ken was still in town. Watching a hitter of that caliber is great especially when you have that familiarity with them," Hooper said.
With induction day coming up, Jeff Hooper and the rest of the 1987 Bellingham Mariners can dust off a few of their old Griffey stories to tell their friends the time they shared the field with a hall of famer.
"My son's friends are always excited to hear that I played with Griffey," Hooper said. "The one specific story I remember to this day is we were playing in Salem and were down by one late in the game and had a man on first. Ken came up and laid down a gorgeous drag bunt for a single to move the runner to second. I came up next and tripled to the right center gap scoring the two runs and propelled us to the one run victory. The local paper the next morning had a headline for the game that read something like Griffey drag bunt wins game for Mariners. Still makes me laugh when I think about it."