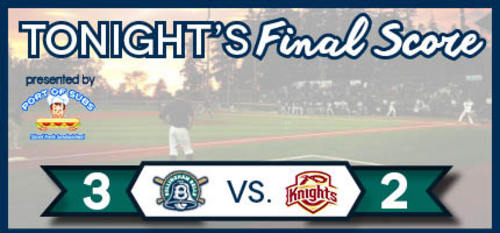 06/30/2016 10:29 AM
Behind a strikeout filled performance from starting pitcher Joey Matulovich, the Bells were able to take the series finale from the Corvallis Knights on Wednesday evening. The contest was the third game of the series and the last of a six game road trip for the Bells.
Matulovich started the first inning with three ground ball outs, but quickly found his groove in the second inning, striking out two in a row to start the inning. Matulovich would end the night with 10 strikeouts, giving him a team-high 34 on the season.
The Knights would jump on the board first, as Cody Hawken crossed in the bottom of the third on a Kyle Nobach single. That would represent Matulovich's only earned run in the ballgame.
The Bells struck back in the top of the fourth, scoring Jake Vieth on a Danny Casals single. They would add another in the fifth, as a wild pitch would allow Andru Cardenas to score.
Matulovich was removed from the ballgame in the bottom of the fifth inning, after 5.2 innings with 5 hits, 1 earned run, 1 walk and 10 strikeouts. He was replaced by Connor Gilham, a ten-day contract player making his first start with the Bells.
Headed into the seventh with a 2-1 ballgame, the Bells added another run as Shane Hanon came in on a sacrifice fly by Jake Vieth.
Corvallis made things interesting in the bottom of seventh, scoring one run & putting runners on second and third. Despite a threat, the run in the seventh would be the last for Corvallis, as Gilham escaped the seventh inning and turned the ball over to Hunter Haworth and Jon Olsen to close the door.
The win for the Bells puts them 11-11 on the season. After an off day Thursday, the Bells will face the NWCBL All-Star team at Joe Martin Field in Bellingham on Friday, July 1. First pitch is set for 7:05 p.m.