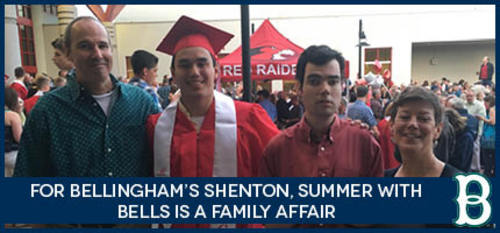 06/28/2016 4:11 PM
Ian Shenton has made the short trip to Joe Martin Field many times over the years to watch his beloved Bellingham Bells play.
But when Ian visits the ballpark this season, he will see a familiar face littered amongst his heroes in Bells' blue. Mixed in with the new faces to Bellingham, is one that Ian has seen all of his life.
His brother Austin, who just finished his illustrious athletic career at Bellingham High School, is in his first summer as an outfielder for the Bells.
Ian and Austin's mother, Andrea, feels that Austin donning the Bells' uniform this summer has strengthened the brother's bonds.
"Ian is the biggest Bells fan in our house," Andrea said. "It is tough to rival Austin's big brother when it comes to being a faithful Bells fanatic. Austin and Ian have a special connection and Austin being a Bells player only makes that stronger."
Austin says he is proud to play for his brother's favorite team.
"Ian loves the Bells games, and he is a big Bells fan regardless of whether I'm playing or not," Austin said with a laugh. "But it is really cool I am a part of it with him."
While Ian might be the bigger Bells fan, Austin grew up as a star baseball player in the shadow of Joe Martin Field and recalls cheering on his hometown team many times growing up.
"I was like any other kid in Bellingham, I came to Bells' games all the time," Austin said. "I remember chasing foul balls that went out of the stadium and when I finally got one I thought it was the coolest thing ever. I never thought I would get to play for the Bells, so this has been great."
While Austin may have not seen his baseball career continuing beyond the high school level in Bellingham, where Austin had a standout career for the Bellingham High School Red Raiders on both the diamond and the hardwood, the Bells knew they wanted to keep the local phenom home this summer.
"Austin is a fantastic player with a bright future," Bells' general manager Stephanie Morrell said. "Beyond his skill level, he also embodies the traits we look for in each of our players, as he is a great teammate, and a high-quality individual all the way around. Austin is a guy we would have wanted on our roster regardless of hometown, but it's really been extra special to watch him begin his collegiate baseball journey right in his own backyard here at Joe Martin Field."
For both left fielder and mother, having the teenager close to home for the summer is a welcomed change of pace.
"It was exciting to hear I could play for the Bells and hang around home," Austin said. "The past few years I have been traveling to different states over the summer to play so it is nice to face this level of competition five minutes away from home."
"Mostly it is nice to be able to watch Austin play and see him for a bit before and after practice and games," Andrea said. "We missed him when he was gone last summer in Florida. It was strange to have your high school kid living the life of a minor league player, and not being able to watch him play ball was tough. So having him home and being able to cheer him on with the community at large is pretty special."
Playing for the Bells has just been one aspect of a busy and remarkable summer for 18-year-old Austin.
On June 10th, Austin walked across the stage to receive his diploma for the culmination of his high school studies at Bellingham High. Less than 24 hours later, the Cleveland Indians selected Shenton in the 34th round of the Major League Baseball draft.
If that wasn't enough of a whirlwind for Austin, he made his Bells debut mere hours after being selected in the draft, walking once in a Bells 3-2 home win over Bend.
Austin, who will follow his commitment to play baseball in the Pac-12 for the University of Washington Huskies next season, has enjoyed the challenge of the being a highly touted high school prospect in a league full of college players.
"I've never really had the opportunity to play at a higher level in front of my friends and family. They would come out to Bellingham High School games and watched me get walked a lot, so playing for the Bells allows me to have everyone at home really cheer me on."
Shenton, who is hitting .310 with four runs batted in nine games so far with the Bells this summer, says he enjoys the challenge of facing older and talented pitching.
"It's been nice seeing better arms and people who will challenge you," Austin said. "Being challenged makes you refine your approach at the plate, and makes you a better hitter."
Andrea knows that this will likely be the last time she sees Austin, considered one of the top 100 high school baseball players in the country this past season, play baseball in his hometown and is trying to enjoy every moment.
"Although Austin playing for the Bells is a new experience, it feels somewhat nostalgic at the same time," Andrea said. "Our family has enjoyed watching the Bells throughout the years. So to see Austin with his Bells uniform on and being able to watch him rub elbows with such a great group of athletes is a ton of fun for our family and friends."