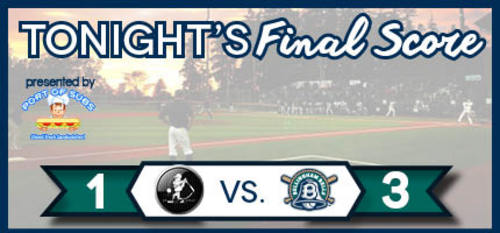 06/14/2016 9:25 PM
The Bells prevailed 3-1 over the Everett Merchants in their non-league tilt Tuesday night. On a chilly night the offenses were slightly suppressed but the Bells found a way to push enough runs across to win the game. The Bells' pitching staff combined for nine innings of one run 6 hit ball to support the offense.
Brian Way got the start on Tuesday and allowed 3 hits while giving up no runs. He gave way to Jon Olson who threw two innings of one run ball. Jeff Gelinas came in in the 6th and gave up no runs over 2 innings. And to close it out Josh Zavisubin and Henry Stellwagen each pitched a scoreless inning, adding to both of their hot starts.
The scoring started in the 5th inning when a single from the Merchants ended up coming around to hurt the Bells when a passed ball ended up letting the only Merchants run score on the night.
The starter for the Merchants Nick Johnson worked around seven Bells hits in 6 innings of work while giving up no runs, but the Bells would break up the shutout in the seventh inning. With a new pitcher in the game the Bells saw their opportunity and promptly jumped on it. After the first two Bells failed to reach base, the catcher Matt Ruff started the two out rally with a sharp single to left, and after Chase Strumpf singled in the next at bat the Bells were in business with 2 runners on. Shane Hanon promptly smoked a double over the head of the right fielder scoring Ruff from second and making the score 1-1. Gunnar Schubert would then work the count to 2-0 and single up the middle scoring Hanon and Strumpf and making the score 3-1. 3 runs would be all the Bells would need as the pitching once again was top notch.
The Bells take the field again tomorrow Wednwsday June 15th for a non-league game against the North Sound Emeralds at 7:05. Pre-game coverage starts at 6:35 on http://network1sports.com/station/bellinghambells with Tom Prizeman at 6:35. To purchase tickets visit http://bellinghambells.com/home/ or call (367) 527-1035.