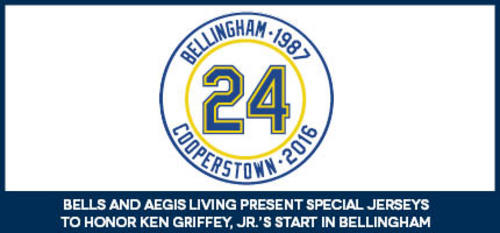 06/12/2016 8:38 AM
The Bellingham Bells are excited to announce they have partnered with Aegis Living to present a special commemorative jersey to be worn on four Sunday games during the 2016 Bells season, beginning with Sunday, June 12th's game vs. the Bend Elks. The jerseys will celebrate and honor Ken Griffey, Jr. and his baseball journey, which began in Bellingham at Joe Martin Field.
Griffey, who began his professional career as a Bellingham Mariner at Joe Martin Field in 1987, will be inducted into the National Baseball Hall of Fame in Cooperstown, New York on Sunday, July 24. After wearing the special jerseys on June 12, July 3 and July 17, the Bells will also wear the jerseys to honor Griffey on Sunday, July 24, the day of Griffey's induction into Cooperstown.
On July 24, as the Bells face the Wenatchee AppleSox, fans will have the opportunity to bid on their favorite player's jersey at a silent auction taking place in the concourse. At the conclusion of the game, winning bidders will have the opportunity to collect their jersey directly from the player, with opportunities for autographs and photographs. All proceeds raised from the silent auction will benefit The Moyer Foundation.
"We are thrilled to have the opportunity to honor Junior's baseball journey in this way, and are extremely grateful for Aegis Living's support of this special promotion," Bells' general manager Stephanie Morrell said. "We know many of our fans have very fond memories of watching Griffey start his career right here at Joe Martin Field. It will be very special to celebrate together with our entire community as Griffey's baseball journey ends with his induction into Cooperstown."