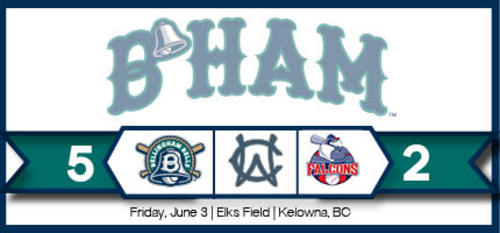 06/03/2016 10:15 PM
It was the hometown kid that shut the door for the Bellingham Bells on Opening Night.
Sehome High School graduate Josh Zavisubin pitched a scoreless 8th and 9th innings for the Bells, earning the save for his hometown team, as the Bells (1-0) defeated the Kelowna Falcons (0-1) 5-2 at Elks Stadium in Kelowna, BC.
Zavisubin entered with a runner on first and nobody out in a one run ballgame in the eight. The University of Puget Sound product escaped any further trouble in the eighth and ended the game with consecutive strikeouts in the ninth to preserve the Bells first win of the season.
Elijah Skipps led the way at the dish for the Bells, going 2 for 4 with two RBIs and allowed Zavisubin to pitch with a lead. The Cypress, CA native hit a go-ahead solo home run in the eighth that pushed the Bells lead to 3-2.
Bellingham got on the board in the first. Danny Casals started a two out rally with a single and promptly stole second. Skipps drove Casals home with a single, giving the Bells a 1-0 lead.
After Kelowna tied the game at 1, the Bells got a run back in the top of the fourth. Matt Dileo sparked another two out rally with a single and came around to score on Landon Riker's RBI double. The Bells led 2-1 after three and a half.
Starter Tyler Palm tossed six innings allowing only a single run on the evening.
The Bells added two more runs in the ninth on an Andru Cardenas RBI infield hit and a Ben Welch sacrifice fly to pad the lead to 5-2.
The Bells will take the field again on Saturday night against the Kelowna Falcons. First pitch will be thrown at 6:35, with pre-game coverage starting on 930 KBAI AM with Tom Prizeman at 6:05. The Bells return home on Tuesday June 7th for their home opener against the Corvallis Knights at 7:05. To purchase tickets visit http://bellinghambells.com/home/ or call (367) 527-1035.