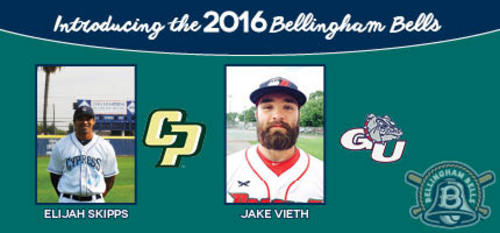 05/24/2016 7:48 AM
The Bellingham Bells have added two players to the roster. Outfielder Elijah Skipps and infielder Jake Vieth will look to help bring a championship back to Bellingham in 2016.
Skipps is a 6-foot-2-inch sophomore from Irvine, Calif. He has had a tremendous year at Cypress College, posting a .336 batting average with eight homeruns and 33 RBI. Skipps will bring a ton of experience, competitiveness and energy to Joe Martin Field this summer.
"Elijah is a flat out competitor," said Vice President of Operations Nick Caples. "We have an amazing outfield platoon and Elijah will greatly add to it."
Vieth, a native of Tacoma, Wash., is currently in his sophomore season at Tacoma Community College. He is hitting .405 with seven homeruns and 41 RBIs, leading the team in all three categories. The Titans are 34-13 on the season. In 2015, he finished the year with a .364 average with two homeruns and 37 RBI.
"We are really looking forward to the consistency that Jake will bring to our roster," Caples said. "He is a powerful guy that can change the game in a hurry with one swing of the bat."