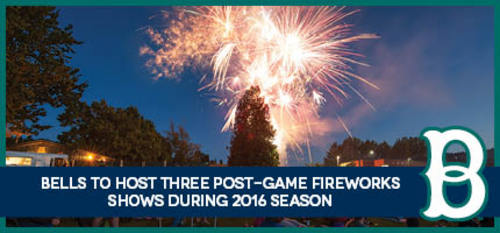 05/09/2016 5:18 PM
The Bellingham Bells are excited to announce they will present three fireworks shows during the 2016 season. Fireworks nights are always among some of the most exciting and well-attended games throughout the entire season.
Post-game fireworks shows will take place on the following dates:
Tuesday, June 7 | 7:05 PM First Pitch

This Opening Night show will combine with the popular $2 Tuesday promotion, with select food and drink specials for $2. To join in the fun, purchase the first ticket at regular price, get the second ticket for $2.

Sunday, July 3 | 7:05 PM First Pitch

The Bells will celebrate America's independence with a fantastic post-game fireworks display.

Wednesday, August 3 | 7:05 PM First Pitch

The Bells will close out the 2016 home season with a post-game fireworks show immediately following the home season finale.
"Fireworks nights are always the most anticipated promotions of the year," said Bells general manager Stephanie Morrell. "There is just something special about sitting with your family and friends while watching fireworks. We truly appreciate the support from our fans, and we believe that this is an exciting and unique way we can give back to them."
All firework shows will be subject to weather and fire marshal approval.
To purchase your tickets, visit www.bellinghambells.com.