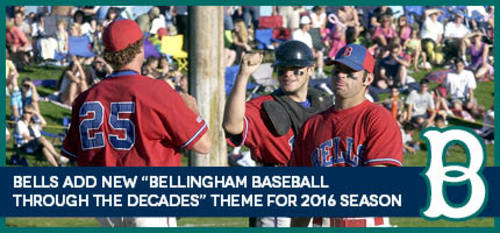 05/02/2016 7:41 AM
The Bellingham Bells are excited to announce the addition of a new promotion for the 2016 season. The new promotion will join a popular lineup of returning promotions, which include Industrial Credit Union Family Fun Day Sunday, $2 Tuesday, and Salute to Service.
During three home games this season, the Bells will be honoring the region's rich baseball history with the new "Bellingham Baseball Through the Decades" theme. The promotion will include special guests and the honoring of former players and coaches who have greatly contributed to the long tradition of baseball in Whatcom and Skagit Counties in the 2000's, 1990's and 1980's.
"We are thrilled to be able to recognize and honor the many individuals who have given so much for this sport," said Bells' general manager Stephanie Morrell. "Baseball is a sport of tradition and history, and we are excited to be able to showcase the many people who have contributed to it."
Each decade will appear once over the course of the season.
2000's Decade: Wednesday, June 22
1990's Decade: Friday, July 8
1980's Decade: Sunday, July 24
Fans will have the opportunity to enjoy promotions relating to each decade and relive some of their favorite baseball stories and memories.