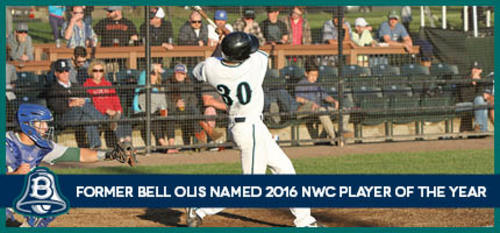 04/27/2016 5:35 AM
Walker Olis, a member of the Bellingham Bells during the summers of 2013, 2014 and 2015, has been named the 2016 Northwest Conference Player of the Year, the conference announced yesterday. Olis is a senior outfielder at Pacific University in Forest Grove, Ore.
During the 2016 season, Olis lead the NWC in several categories and broke school records for stolen bases, runs and walks. To date, Olis is hitting .435 on the season with 11 home runs, 27 stolen bases in 28 attempts, 56 runs, 43 walks and 45 RBI.
Olis, a native of Burlington, Wash., played three summers for the Bells and was a member of the 2014 West Coast League championship team. He was honored as an All-West Coast League honorable mention in 2015.
"Walker is an outstanding player, teammate and person," Bells' pitching coach and recruiting coordinator Jim Clem said. "He was a great Bell! For three summers, we got to watch him do some amazing things. I know I'm not alone when I say he is the best rightfielder I have ever seen play. We couldn't be happier for Walker, as he has definitely earned every bit of his success."
From Pacific University's GoBoxers.com:
HILLSBORO, Ore. — Senior outfielder Walker Olis accomplished a number of things this season that no other Pacific baseball player before him had.

Now he joins a party of two Boxers in school history that have been named the Northwest Conference Player of the Year.

Olis, who broke Pacific single-season records this year for stolen bases, runs and walks, was the pick of conference coaches as the top player in the league in 2016. The last and only other Boxer to earn the honor was Kevin Roth in 2002, ironically also from Burlington-Edison High School.

"It's a tremendous honor for Walker and well deserved," said Boxer head coach Brian Billings. "There hasn't been a time that I can remember where one player dominated the league statistics like he did."

Olis, a four-year starter and four-year All-NWC selection from Burlington, Wash., led the conference in nearly every offensive category. He hit .435 (first), had 11 home runs (first), 27 stolen bases in 28 attempts (first), scored 56 runs (first), had 43 walks (first) and 45 RBI (second).

Additionally, Olis was one of the best defensive outfielders in the NWC, making only one error in 104 chances and throwing out six base runners.

Olis was also named to the All-NWC First Team for the second year in a row. He was an honorable mention selection as a sophomore and a Second Team pick as a freshman.

"Walker had great potential when he arrived here as a freshman, " said former Boxer leader Greg Bradley, who recruited him. "But what set him apart is that he improved greatly each year and went on to make the most of his abilities."