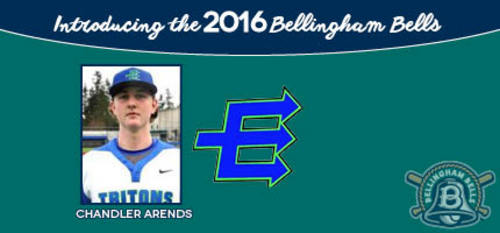 04/22/2016 7:51 AM
The Bellingham Bells have added six-foot-two-inch right-handed pitcher Chandler Arends of Edmonds Community College. Arends will join fellow Edmonds teammates Riley Storedahl and Brian Way on the 2016 Bellingham Bells roster.
Arends attended Kentwood High School in Kent, Wash. His senior season, he was named to the First-Team All-SPSL 4A North team as a third baseman.
In 2015 at Edmonds Community College, Arends maintained a 3.06 ERA and notched a record of 3-0. Arends was named to the Second-Team in the Northern Region.
"Chandler is a great competitor," said Vice President of Operations Nick Caples. "He is going to add grit and toughness to our pitching staff, and we are very excited to see him compete out there on the mound."
So far in 2016, Arends has appeared in two games, pitching seven innings and notching 10 strikeouts.
The Bells home opener will be on June 7, 2016 at 7:05 p.m.