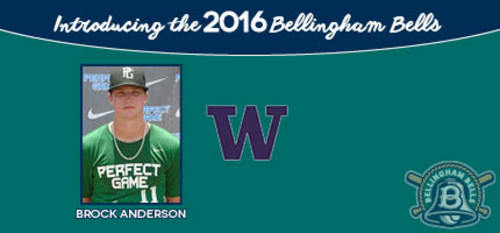 04/11/2016 1:35 PM
The Bellingham Bells have added outfielder Brock Anderson to the roster. Anderson has committed to the University of Washington, travelling from his hometown of Huntsville, Ala.
Anderson was a 2015 Perfect Game First-Team All-American and a participant in the 2015 USA Baseball Tournament of Stars. Anderson is currently the top ranked position player in Alabama and ranked the nation's 159th overall recruit.
The 6-foot-3-inch left-hander will bring exceptional power and athleticism to the Bells roster. Currently in his senior year at Sparkman High School, Anderson has proven to be challenging for opposing teams, with a .348 batting average, nine homeruns, and 29 RBI.
"Brock is one of the best recruits in the nation," said Vice President of Operations Nick Caples. "He is a guy that every ball club would love to have. His work ethic, athleticism, baseball IQ, and strength combine to make Brock a special player."
The Bells home opener will be on June 7, 2016 at 7:05 p.m.