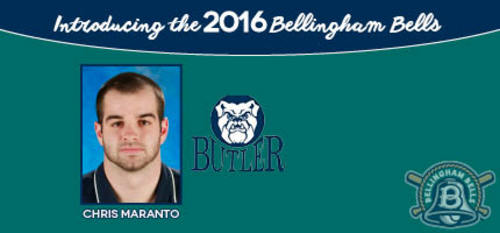 04/06/2016 9:03 AM
The Bellingham Bells have added third baseman Chris Maranto of Butler University. The redshirt junior is a native of Hawthorn Woods, Ill.
Maranto has had a very successful career at Butler University thus far. As a redshirt freshman in 2014, he led the team with a .309 batting average and was second on the team with 22 RBI in 48 games.
Maranto would follow up on the great freshman season with a productive sophomore campaign in 2015. He posted a .275 batting average in 38 games, missing part of the season due to a pitch that hit him in the face.
"Chris is incredibly resilient and a tough competitor," said Vice President of Operations Nick Caples. "He is going to bring a ton of experience and leadership with him this summer. We are looking forward to Chris mentoring the younger members of the team, and we are very excited to have him suiting up for the Bells."
Maranto is currently leading the Butler Bulldogs with two homeruns and is second on the team with 12 RBI.