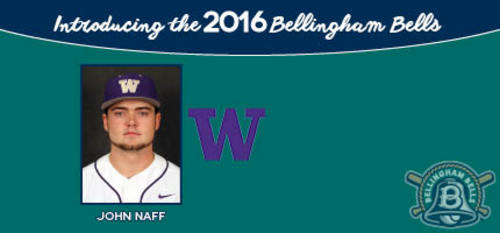 03/30/2016 9:13 AM
The Bellingham Bells have added another University of Washington Husky to the roster. John Naff of Marysville, Wash., will help handle duties at first base and should provide significant consistency and power to the lineup.
Naff has had a great start to his junior year at the University of Washington; hitting .281 with four doubles, two home runs, and seven RBI through 18 games. The 6-foot left-handed hitter has consistently posted impressive numbers with every team he has played for.
Before transferring to UW, Naff played at Everett Community College. He was named second-team 2015 All-NWAC Northern Region after a season hitting .365 with three home runs, seven doubles and 22 RBI.
"John will be a left-handed threat in the middle of our order," said Head Coach Mike Gange. "He can supply power to all fields and has a professional approach to hitting. He will be a leader within our clubhouse and a great mentor for our young players."
A sheer competitor and hard-worker, Naff will fit in nicely with the rest of the Bellingham Bells roster. The Bells first home game will be on June 7 at 7:05 p.m. against the Corvallis Knights.