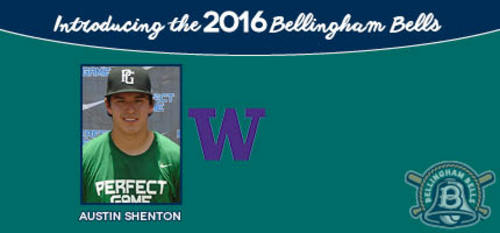 03/22/2016 8:40 AM
The Bellingham Bells have added local baseball standout Austin Shenton to the 2016 roster. Shenton currently is a senior at Bellingham High School, and has committed to play at the University of Washington next spring.
Shenton and the rest of the UW recruiting class are ranked number 19 in the nation. Currently, Shenton is ranked the country's 142nd best prospect by Perfect Game and 94th by Baseball America. The left-handed hitter has proven that he can consistently hit for power and will be a threat to any opposing pitcher.
As a freshman for the Bellingham Red Raiders, Shenton hit .406 with 7 doubles, 2 home runs and 21 RBI, earning him Second-Team All-State honors. "Austin is an incredible ballplayer and an even better kid," Vice President of Operations Nick Caples said. "The amount of time that he spends perfecting his game says a lot about the person he is and the passion he has for the sport."
The Bells' home opener will be June 7 against the Corvallis Knights, with first pitch at 7:05 p.m.