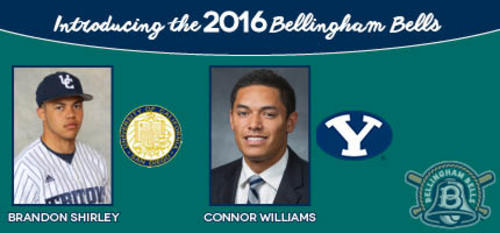 03/14/2016 3:36 PM
Adding both speed and consistency to the roster, the Bellingham Bells have added outfielder Brandon Shirley of UC San Diego and pitcher Connor Williams of Brigham Young University.
Shirley will make his way to Bellingham from his hometown of Los Angeles, Calif. He attended and played baseball at Loyola High School, and received a Gold Glove award in 2011. Shirley co-led the 2015 UC San Diego Tritons with 12 stolen bases on 15 attempts. In 2014, he hit .319 with 23 RBI, and a .394 on base percentage.
"Brandon is a true center-fielder in terms of his skills and leadership ability," Head Coach Mike Gange said. "He comes to us as an experienced player from a program that knows how to win. Brandon's athleticism and professional tools, in terms of his ability to run and hit for power, make him an exciting player to watch."
Williams hails from South Jordan, Utah, where he attended Bingham High School. He was named Second-Team All-State in 2011, hitting .345 with nine doubles, three triples, six home runs, and also compiled 30 RBI. He was then selected to participate in the 2012 U18 USA Baseball National Team trials. As a freshman, he attended Salt Lake Community College, where he compiled a .321 batting average with 28 RBI. In 2016, Williams has appeared in 4 games on the mound and holds a 1-0 record with a 3.09 ERA.
"Connor is an all-around athlete," said Vice President of Operations Nick Caples. "He was recruited by Utah State in basketball as a junior in high school. He is a threat on the base paths, can pitch and play in the field, and has a high baseball IQ. Fans are going enjoy watching him compete at Joe Martin Field this season!"