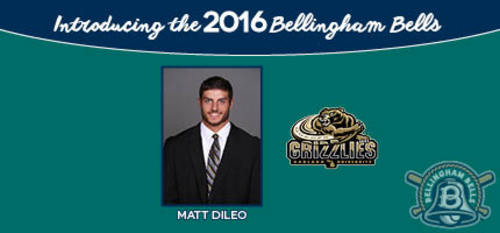 03/07/2016 10:29 AM
The Bellingham Bells have added another catcher to the roster. Oakland University's Matt DiLeo, a native of Rockford, Mich., will join the Bells in 2016.
DiLeo is coming off a freshman campaign where he started 26 games and hit .253, which earned him Horizon League All-Freshman Team honors. While at Rockford High School, DiLeo was a two-time All-District and All-Region Selection, helping lead his team to a conference championship his senior year.
"Matt is well known for his work ethic, and that is exactly what you want from the catcher position," said Bells' Vice President of Operations Nick Caples. "Catchers are natural leaders, and if they are putting in extra work, the guys around them are bound to follow their lead. We are excited to welcome Matt to Bellingham this summer!"
Through 12 games this season at Oakland, DiLeo is tied for second on the team with three doubles, and leads the team with eight RBI.
The Bells home opener will be June 7th against the Corvallis Knights; the Bells' schedule can be found at http://www.bellinghambells.com/schedule/game-schedule/.