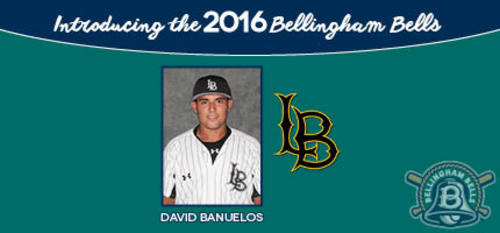 02/29/2016 10:30 AM
The Bellingham Bells have added another player to the roster; 5-foot-10-inch catcher David Banuelos of Long Beach State. Banuelos attended Damien High School in Ontario, Calif.
In high school, Banuelos was a three-time All-Sierra League selection, and was also selected to the San Gabriel Valley Tribune's All-Area First Team. He tallied a .395 batting average with four home runs, and 24 runs driven in during his senior year at Damien High School.
In 2015 for Long Beach State, Banuelos made nine starts and appeared in 18 games as a true freshman. In his second start, he drove in three runs with a two-run double and a sacrifice fly against Loyola Marymount University. Banuelos proved tough to run against, as he threw out eight of 18 runners trying to steal.
"David is the type of player that helps a ball club win games," said Bells' Head Coach Mike Gange. "He has the ability to shut down the run game due to his defensive skill set. His character also speaks volumes and will make building a strong rapport with our pitching staff an easy task."