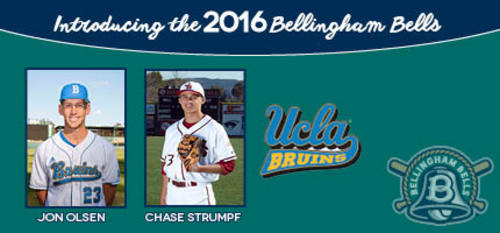 02/22/2016 10:02 AM
Shortstop Chase Strumpf of Ladera Ranch, Calif. and right-hander Jon Olsen of Rancho Cucamonga, Calif. will join the Bellingham Bells for the summer of 2016. Olsen is currently a freshman for the Bruins, while Strumpf is currently a senior at JSerra Catholic High School.
According to MaxPreps.com, JSerra Catholic High School is number three on the top ten list of teams to watch for in 2016, largely due to Strumpf. He helped lead the team to a 27-5-1 record in 2015, as they outscored opponents 191-89 over the course of the season. He earned a 2015 Underclass First-Team award, and a 2014 Underclass Second-Team award.
"We are excited to have Chase as a Bell this summer," Head Coach Mike Gange said. "Chase has the ability to be an impact player both offensively and defensively. Above all else, we will look for Chase to be a leader amongst our infield."
Olsen, a three-year varsity letter winner at Damien High School, ranked number 36 on Perfect Game USA's list of top California 500 prospects in 2015. He was a 2015 Perfect Game USA honorable mention All-American his senior year.
"We could not be more excited to have Jon aboard," Vice President of Operations Nick Caples said. "He is another experienced guy and we are very fortunate to have him and the rest of the pitching staff throwing for us this season."