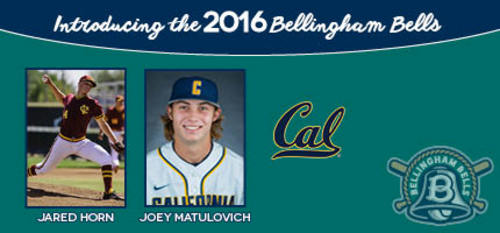 02/15/2016 10:35 AM
A couple of California Golden Bears will head north for the summer as the Bells will add two from their pitching staff in 2016; 6-foot-3-inch right-hander Joey Matulovich and 6-foot-2-inch right-hander Jared Horn. Both will add great depth to the roster and will help the Bells in the pursuit for the 2016 West Coast League Championship.
Matulovich attended San Ramon Valley High School in Danville, Calif., where he went 9-1 with 110 strikeouts. He earned All-State honors and was named League MVP. In two of his first six starts of his senior year, Matulovich dealt no-hitters. He is currently a freshman at the University of California.
"Joey is a great competitor," said Vice President of Operations Nick Caples. "He has proven that he gets stronger as he gets further into games. That is a great quality and we are excited to see him showcase that this summer."
Horn is a senior at Vintage High School in Napa, Calif. In his junior year, he held a 2-1 record with a 1.50 ERA and notched two saves. He was a 2014 and 2015 Underclassmen High Honorable Mention by Perfect Game.
"Jared has a fastball that reaches low 90's, and is able to use his off-speed pitches as effective strikeout tools," said Caples. "We have heard great things about him as both a player and person. The Bells know what he is capable of and we are thrilled that the fans will get to watch him compete!"