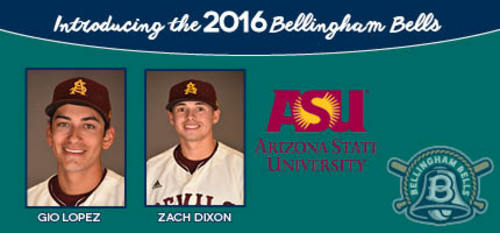 02/12/2016 10:36 AM
The Bellingham Bells have announced the addition of two pitchers from Arizona State University to the roster, as the Sun Devils will send Gio Lopez and Zach Dixon to Bellingham.
"Over the years that I have been here, our ASU players have truly been outstanding Bells, as well as some of the best players in the West Coast League," said Pitching Coach Jim Clem. "That said, there is no doubt that we are really looking forward to having these young men wearing Bells uniforms this summer. From what we understand, both are quality pitchers and great people!"
Lopez attended Millennium High School in Goodyear, Ariz. His senior year he finished with a 7-2 record and a 2.38 ERA. In 56 innings pitched, he struck out 84, walked 25, and only allowed 40 hits.
"Gio Lopez has an exceptionally strong arm which allows him to hit the 90 MPH mark, and he has four other pitches to go with it," Clem said. "With his ability to throw strikes, we expect Gio to be a lot for opposing hitters to handle."
Dixon attended Centennial High School in Las Vegas, Nev. He earned awards as an All-State utility player and made the All-State academic team. Dixon has an older brother who attended Arizona State and a brother that plays baseball for Western Oregon. The ASU coaching staff has spoken highly of his ability to throw strikes consistently.
"Zach is a very athletic pitcher, as he also played in the outfield in high school," noted Clem. "Zach is known for having a quality fastball, curveball, and exceptional change-up! Being a left-hander, he will help the Bells in a number of ways, including shutting down the running game."