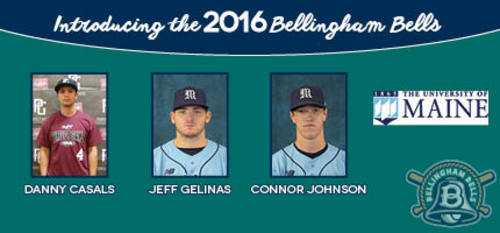 01/25/2016 9:41 AM
The Bells have locked in three players from the University of Maine as pitchers Jeff Gelinas and Connor Johnson and middle infielder Danny Casals join the 2016 squad.
"We are pleased to have the University of Maine represented on our roster again this summer," said Pitching Coach Jim Clem. "Former Black Bear players have definitely been difference makers on our past Bells teams and we expect this year's Black Bear additions to provide more of the same."
Jeff Gelinas, a 6-foot-4-inch right-hander from Saco, Maine, made six starts for the Black Bears in 2015, compiling a 3-1 record. His best performance came against LIU Brooklyn, where he threw seven strong innings, striking out seven batters and allowing only one hit.
"Jeff has valuable college and summer baseball experience under his belt," Clem said. "With a fastball that sits in the 90's, Jeff will present a real challenge for opposing hitters. No doubt that Jeff will be an exciting player for Bells fans to watch!"
Johnson, a 6-foot-1-inch left-hander from Taunton, Mass., appeared in 13 games for Maine during the 2015 season. He was named a Maine scholar-athlete 'rising star' and named to the American East Honor Roll. Johnson has proven to be hard to hit, finishing his high school career with a 16-5 record with a 1.70 ERA and 137 strikeouts.
"Connor is also a great addition to our pitching staff," noted Clem. "Besides being left-handed, Connor has a very good fastball as well as a solid curveball and exceptional change-up. We expect Connor to be a key performer for the Bells."
Casals makes his way to Bellingham from Miami, Fla., where he attended Christopher Columbus High School. In addition to Maine, the University of Florida, Central Florida University, and the University of North Carolina heavily recruited Casals. He was ranked in the Top 500 by Perfect Game, and was also selected as a Pre-Season All-American in 2015.
"Danny comes to us as a highly respected middle infielder who can really defend and be an offensive threat," said Head Coach Mike Gange. "He is one of the rare infielders who has the ability to play three infield spots at a high level and provide pop in the middle of the order. Although Danny is a younger player, his athleticism and tools speak of a true professional."