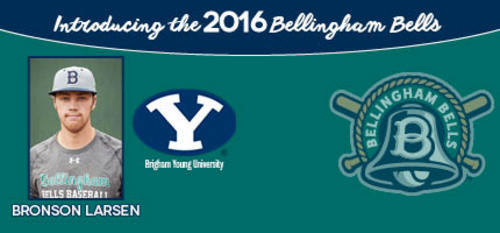 01/18/2016 10:15 AM
Bronson Larsen from Brigham Young University will return to the Bells for the 2016 season.
"The Bells are looking forward to welcoming Bronson back to our organization this year," Vice President of Operations Nick Caples said. "We will look to him to be a leader in the clubhouse, and we know that he will embrace that opportunity."
Larsen, a native of Fruit Heights, Utah, is a junior catcher at Brigham Young University. In 2015 with the Bells, Larsen maintained a .256 with 31 hits. He was also third on the team with six home runs on the season. During one point of the season, Larsen hit home runs in four of five games. As a sophomore at BYU in 2015, Larsen strung together a 23-game hitting streak.
"Bronson is a fantastic baseball player," Caples said. "When you have a catcher of that caliber behind the plate, it allows your pitchers to have extra confidence in what they are throwing, knowing that Bronson will be back there to handle it. He also has chemistry with our returning pitchers from the 2015 summer. It will be exciting to watch him behind the plate this season."
Larsen was a 2015 West Coast League All-Star for the Bells and a participant in the Home Run Derby. He will look to build on the amazing 2015 season he had in Bellingham.
The Bells will begin their season on the road against the Kelowna Falcons. First pitch will be at 6:35 p.m. on June 3, 2016.