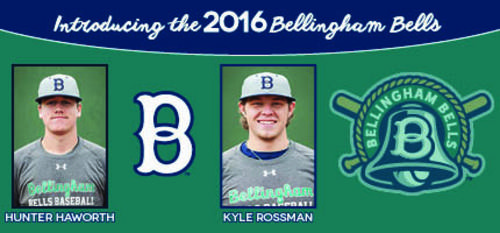 01/12/2016 9:57 AM
The Bells have two more players from the 2015 season returning this summer. Pitchers Kyle Rossman from Pacific Lutheran University and Hunter Haworth from Chico State will look to help lead the Bells to another division title.
The addition of these pitchers adds to the depth of the pitching staff. In 2015, the Bells allowed 173 earned runs, which was the lowest allowed in the West Coast League. The Bells' 3.26 team ERA was also the lowest in the league. Having been part of the pitching staff that accomplished this, these players will look to defend that title in 2016.
Rossman started four games for the Bells in 2015, going 2-0 while finishing the season with an amazing 0.76 ERA in 23.2 innings pitched. He currently majors in business management at PLU, where both of his parents attended.
"Kyle is notorious for coming right at batters from the first pitch," said Vice President of Operations Nick Caples. "Every team wants guys that will set the tone each and every at bat. He is a young man that everyone in this organization respects and we are thrilled to have him back this year."
Haworth had a 1-1 record with the Bells last season with 13 strikeouts and five walks in 26.2 innings pitched. His best performance last season at Chico State was in a 5-3 win over Cal State Stanislaus, where he pitched seven innings, allowing three runs while striking out five batters.
"Hunter is a veteran in this league and he knows what it takes to be successful," Caples said. "He will be an asset to the rest of the pitching staff, both on the field and with offering advice and leadership. We are very fortunate to have him throwing for us again this season."