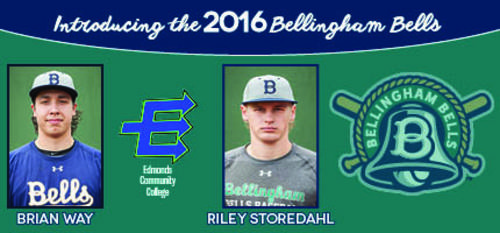 01/05/2016 8:53 AM
The Bellingham Bells are excited to announce the return of pitchers Brian Way and Riley Storedahl for the 2016 season.
Both Way and Storedahl played integral roles with the Bells in the 2015 season, a year in which the Bells finished atop the West Division with a record of 33-21.
Way, a sophomore from Edmonds Community College, posted a 4-0 record last summer with an ERA of 1.56. He appeared in 17 games. Though a majority of his appearances came from the bullpen, he did start one game against the Kitsap BlueJackets, earning a 4-1 win. He earned seven saves in the summer of 2015, and looks to post similar numbers this season.
"Brian is an extremely gifted pitcher," Bells' Vice President of Operations Nick Caples stated. "The key to his success is that he keeps the opposition off of the base paths. When you can do that with consistency, you give your team a great chance to win games. He has showcased to the fans what he is capable of and I know that everyone is excited to see him out there."
Storedahl, also a sophomore from Edmonds Community College, recorded a 2.12 ERA in 2015 with a record of 3-2 last summer. During the 2015 season with Edmonds, he recorded a 7-2 record with 43 strikeouts and 8 walks in 58.1 innings pitched.
"Riley is strictly business when he steps on the mound," Caples said. "Much like Brian Way, he commands the plate and is a tough challenge for anybody that faces him. He only allowed twenty hits in 29.2 innings pitched for us last year, the numbers speak for themselves. We are thrilled to have him back this year."