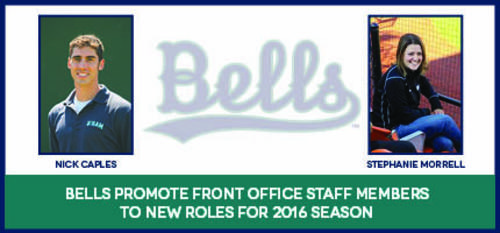 01/04/2016 10:48 AM
The Bellingham Bells announced today that they have promoted two key front office staff members to expanded roles for the 2016 season. General Manager Nick Caples will assume the new role of Vice President of Operations and Assistant General Manager Stephanie Morrell will be promoted to the role of General Manager.
"This is an extremely exciting time for our organization," stated team owner Eddie Poplawski. "Nick and Stephanie have helped elevate the Bells' performance on and off the field to new heights and, in their expanded leadership roles, I anticipate even greater things to come. Nick and Stephanie are first-class professionals whose top-shelf talents, drive, determination and character make for a formidable front-office combination."
In his new role as Vice President of Operations, Caples will provide operational oversight for all facets of the Bellingham Bells, working to support the long-term growth and overall success of the Bells. Caples will also continue to work extremely closely with sponsorship sales and vendor/partner relationship management.
Caples joined the Bells in 2012 after seven seasons with the Wenatchee AppleSox. In his four seasons as General Manager, the team showed tremendous growth under his direction, rising from an average attendance of 616 in 2011 to 1300 in 2015. Caples was named West Coast League Executive of the Year in 2012 and 2014.
"It is a very exciting time for the Bells and I am thankful for the opportunity to work with Stephanie to shape the future of our organization," Caples said. "The support we have received from our community has been humbling over the last five years. It has been a complete team effort from our fans, sponsors, host families, coaches, players and employees that have come together to make this so special."
As the team's new General Manager, Morrell will take responsibility for the day-to-day operations of the Bellingham Bells, in addition to continuing to support efforts in sponsorship sales, marketing & public relations.
"I am extremely excited for Nick and I to have the opportunity to grow into new roles," Morrell said. "Though our titles will change, our mission will stay the same. I look forward to continuing to work closely with Nick and our team to help collegiate athletes chase their dreams of playing professional baseball, while at the same time striving to create a game day experience for our fans that is second to none."
Morrell will enter her third season with the Bells in 2016, after joining the team as Marketing Director in 2014 and fulfilling the Assistant GM role in 2015. Morrell is a 2008 Western Washington University graduate and has lived in Bellingham for over ten years.
"I am extremely appreciative to all who have locked arms with the Bells to support our team and our mission," Morrell said. "Being able to fulfill a General Manager role for a team I am proud to be part of is really a dream come true. I am so grateful to everyone in the Bells' family who has supported me along the way."
Both Caples and Morrell will assume their new positions effective immediately.