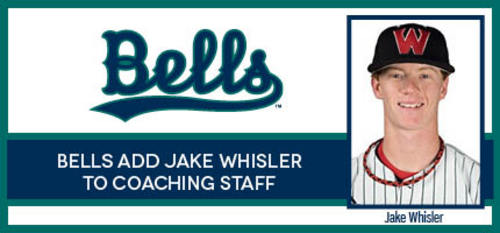 11/30/2015 11:24 AM
Jake Whisler has been hired by the Bellingham Bells as an assistant coach, the team announced today. Whisler has three years of experience as a player in the West Coast League, playing for the Medford Rogues and the Klamath Falls Gems.
"We are very excited to announce the addition of Jake Whisler to the coaching staff," general manager Nick Caples said. "Jake is a natural born baseball coach and has some very unique experience within the West Coast League that will help him resonate with our players. It was clear from our first conversation that our visions perfectly align in what we are looking for in a coach, and the kind of coach he aspires to be."
Whisler will be joined by the current coaching staff: head coach Mike Gange, pitching coach and recruiting coordinator Jim Clem, and assistant coach Dane Siegfried. With the recent promotion of Mike Gange to head coach, Whisler will fill the final assistant coach position on the Bellingham Bells staff.
"Where I'm at with my coaching career, I could not ask for a better opportunity with a better organization," Whisler said. "I mostly look forward to connecting with our players and watching them find success throughout the summer, as well as watching them compete for a West Coast League Championship!"
Born and raised in Klamath Falls, Ore., Whisler was a three-sport athlete at Klamath Union High School, where he excelled in baseball. During his senior year, he was named the Southern Sky 'Player of the Year' and was an all-state shortstop. He advanced his career to Western Oregon where he played for five years and was named team captain his senior year. His efforts helped lead Western Oregon to five Great West Athletic Conference Titles and two NCAA Division II West regionals.
Whisler currently is the volunteer assistant baseball coach at Western Oregon University, where he is the first base coach and also coaches the outfielders. He also serves as the co-head coach for the Post 20 Dallas DeMarini Dirtbags American Legion baseball team where he helped lead them to third place in the state tournament.
"Jake's character and baseball background make him a great fit within our Bells family," head coach Mike Gange said. "Jake was born in the game of baseball and will serve as a great mentor and leader on our staff. He has great knowledge of the game and will benefit our players in more ways than one. His experience and flexibility to work with both infielders and outfielders, while assisting with the offense, will serve as a nice resource for our players."