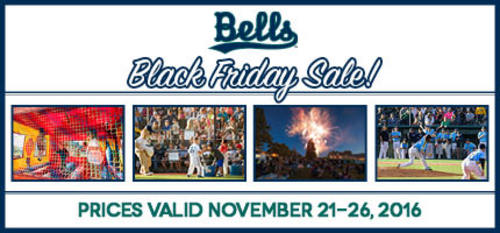 11/24/2015 9:14 AM
The Black Friday Deals are out, and now is your chance to save big on Bellingham Bells tickets! Until November 29th, all 10-game ticket general admission packs will be priced at 50% off, or you can purchase two tickets for $8 (valued at $14).
These ticket packs make great gifts, and can be used however you see fit! Bring a group of 10, come by yourself 10 times, or any combination in between.
To purchase online, click here.
Only 100 are available of each ticket pack, so make sure to lock in these tickets before they are gone! These deals will be available from November 24th-November 29th and will be available online or by calling the Bells' front office at (360) 527-1035.