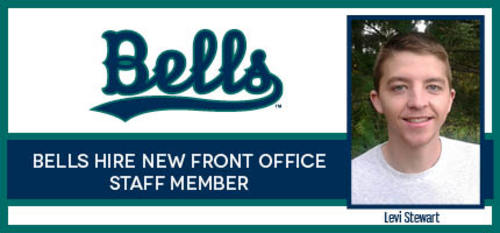 11/03/2015 10:48 AM
The Bellingham Bells are excited to announce the hiring of a new front office staff member. Levi Stewart, a 2014 sport management graduate from Washington State University and a Sedro Woolley native, will join the Bells as the Sales & Marketing Coordinator. Stewart becomes the third full-time staff member in the Bells' front office.
In his new role, Stewart will support the Bells' front office in a variety of capacities, including sponsorship and ticket sales, marketing and community relations.
Stewart comes to the Bells with West Coast League experience, having interned with the Kitsap BlueJackets during the summer of 2014. He also has a wide range of experience in sport management, including working as a student manager with the Washington State University men's basketball team and as an assistant athletic director with the Arlington Boys & Girls Club.
"We are excited to be in a position to add to our front office staff," general manager Nick Caples said. "We couldn't be happier to welcome Levi to our staff and know that our fans, sponsors, host families and entire Bells' family will really enjoy working with him."