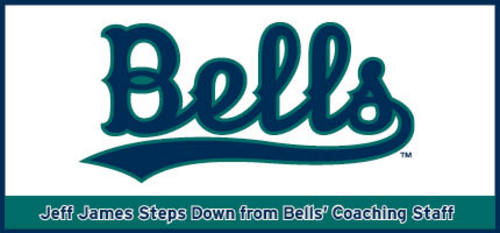 10/06/2015 8:02 AM
Jeff James, who has managed the Bells for the past two seasons, has informed the team that he will not return for summer 2016. James, who lives in the Seattle area, leaves the Bells to spend more time with family, including his wife and young daughter.
James joined the Bells in November 2013. Over two seasons in the West Coast League, James led the Bells to consecutive playoff appearances and a 70-38 overall record. During the 2014 season, in his first season as manager, the Bells achieved a franchise-high 37-17 record en route to the West Coast League championship. At the conclusion of the 2014 season, James was named West Coast League Manager of the Year & the team also received the Jim Dietz Sportsmanship Award under his direction.
"Our front office and ownership staff has greatly enjoyed working closely with Jeff over the last two summers. Jeff's teams not only enjoyed on-field success, but most importantly, conducted themselves in a way that is representative of what we expect from anyone who puts on the Bellingham Bells uniform," Bells' General Manager Nick Caples said. "While we are sad to see him go, we understand that family is a priority and are truly appreciative to Jeff for all of his efforts over the last two summers."
Moving forward, pitching coach & recruiting coordinator Jim Clem will continue to lead the Bells' recruiting & coaching efforts and will work closely with the Bells' front office during the off-season to immediately identify potential head coaching candidates for the 2016 season.