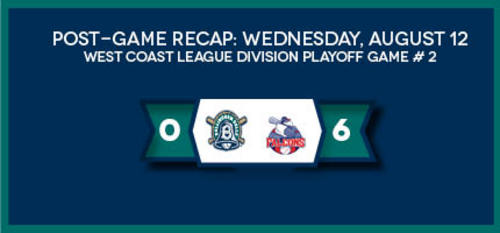 08/12/2015 10:29 PM
For the first time in Bellingham Bells history the Bells were held scoreless in a postseason game, dropping game two of the Divisional round of the playoffs to the Kelowna Falcons 6-0.
After the Bells held the second best offense in the league to a single hit in game one of the series, the Falcons struck on Wednesday night for eight hits. The Bells gave the ball to their season ace Andrew Kemmerer (0-1). Kemmerer was making his last start of the season for the Bells and was greeted by a Grant Meylan double into right center to begin his night.
The Falcons, who averaged six runs a night during the regular season, elected to play small ball in the first. Matt Hearn sacrificed Meylan to third, and the next batter Hunter Villanueva was walked to put runners at first and third. The Falcons played their hand aggressively with a double steal. Villanueva was caught stealing second but on the throw Meylan came into score the first run of the game.
Kemmerer settled down for three innings following the first. But, in the fifth inning the Falcons struck for their big inning off Kemmerer. With one out Kemmerer tried to make a play on a ball that was lined off his collarbone and ricocheted behind the mound, his throw went down the right field line and put Vinny Esposito on second.
The error opened the scoring for the Falcons. They followed with a Joey Crunkilton single to put runners at first and third with one out. Kyle Plantier then dropped a bunt down for a safety squeeze, Kemmerer fielded and tossed to catcher Joey Harris but Esposito avoided the tag with a head first slid to score the first run of the inning. Two batters latter Matt Hearn cleared the bases with a two RBI triple.
Offensively the Bells managed to tally seven hits against a combination of three Falcon pitchers. But the Bells failed to record a hit with a runner in scoring position and never got a man to reach third. Falcons' starter Michael Koval (1-0), invited contact and fell behind few Bells hitters. In his six innings of work he struck out four and walked none to earn his first postseason win.
The Bells had chances in the second, fifth, sixth, and eighth putting two men on in each frame but would leave them stranded at first and second each time. The Bells stranded 10 base runners on the night, most in a postseason game in team history.
The loss sets up a winner take all, game three tomorrow. With the season on the line the Bells will turn to lefthander Zach Johnson. Johnson has playoff experience with the Bells, starting game one of last year's Championship series. First pitch will come at 6:35 on 930 KBAI with Erik Oas on the call for a 6:05 pregame show.