07/06/2009 9:36 AM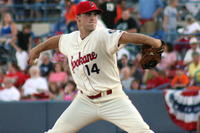 Former Bells pitcher Braden Tullis (pictured) made is first professional start on Saturday, July 4, striking out nine batters in 5 innings of work. His performance in his first start has earned him my Bells Blog former player of the week award.
With help from others and some additional research, I have also been able to find four former Bells players that were with the team between 1999 and 2004 that are currently playing in organized baseball. These players include Anthony Claggett, Kevin Richardson, Emerson Frostad and Ty Taubenheim
If you know of others currently playing in any type of professional baseball, please let me know by sending an e-mail to [email protected]

CLICK HERE to read this entry and more at the Bells Blog hosted by BellinghamHerald.com.