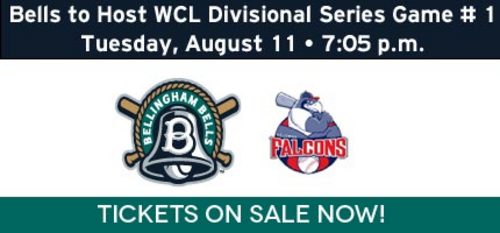 08/10/2015 10:05 AM
The Bellingham Bells are pleased to announce that Bellingham will host a playoff game at Joe Martin Field on Tuesday, August 11th at 7:05 p.m. Tickets are now on sale.
The West Coast League Division Series is a best of three game series. The Bells will host the Kelowna Falcons in the opening game of the series on Tuesday, August 11th, and then travel to Elks Stadium in Kelowna, BC for games two and three on Wednesday, August 12 and Thursday, August 13 (if necessary).
Fans who wish to purchase playoff tickets may do so by visiting www.bellinghambells.com or by calling the Bells office at 360-527-1035. Inventory is limited for this game and tickets will be limited to the first 3,000 sold.
In an effort to provide a great fan experience and a memorable night at the ballpark for all, please take note of the following details for the home playoff game:
TICKETS
Tickets for Tuesday's playoff game can be purchased online at www.bellinghambells.com or by calling the Bells Ticket Office at 360-527-1035. The Bells ticket office at Joe Martin Field will be open on Monday, August 10th from 2:00-5:30 p.m. and on Tuesday, August 11th from 1 p.m. until first pitch for any in-person ticket purchases.
Tickets will be $7 for general admission and $9 for grandstand seating. $2 Tuesday pricing does not apply to post-season games and will not be in effect.
STADIUM INFORMATION
Gates will open at 5:00 p.m. Please arrive early to ensure entry into the ballpark for the beginning of the game.
"We are thrilled with the opportunity to host a home playoff game," said Bells general manager Nick Caples. "We are looking forward to sharing this experience with the entire Whatcom and Skagit County communities and we look forward to a fun and special night at the ballpark."
For more information or questions about the WCL Division Series Playoff Game at Joe Martin Field, please call the Bells Front Office at 360-527-1035.