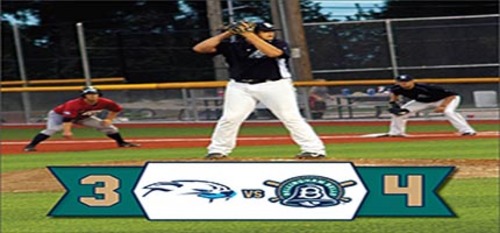 08/08/2015 11:21 PM
Saturday night at Joe Martin Field, the Victoria HarbourCats (28-24) saw their postseason hopes come to an end with a 4-3 Bellingham Bells (33-20) win.
For six innings, both teams struggled to mount much in the way of offense against starting pitching. Grant Schneider returned to the Bells rotation and was sharp. "It felt right to be back on the mound as a starter," said the right hander of his spot start.
"I had three pitches working tonight, and I felt like that kept them [the HarbourCats] off balance," Schneider said.
A night ago, the HarbourCats pounded Bells pitching for 13 hits but against Schneider failed to record a hit until the sixth. Schneider was not perfect however. The right hander struggled with his control issuing six walks, the last of which came around to score the first run of the game. The run gave the HarbourCats a brief 1-0 lead. Brice Longanecker (4-1) relieved Schneider and excited the jam with only one run allowed.
After Schneider surrendered his first hit of the game to put two men on he was removed. He went five and a third innings and allowed just one run on one hit to go with three strikeouts.
In the bottom of the sixth the Bells' bats came alive. Austin Dondanville (4-4) started for the HarbourCats and was impressive through five innings.
In the sixth he got into trouble when he walked Chris Beall to start the inning. Four pitches later he hit Dustin Breshears to put runners at first and second with nobody out. Bronson Larsen then followed with a double high of the wall in left center to bring in the first run of the night for the Bells. K.J. Brady added an RBI sacrifice fly that give the Bells a 2-1 lead.
In the bottom of the seventh, the Bells added to their lead with two more runs. Two base hits, two walks, and a sacrifice fly combined to stretch a Bells lead to 4-1.
The HarbourCats did not go down quietly. Griffin Andreychuk crushed a two run home run to right center field off Riley Storedahl to trim the lead to one. Stroedahl rebounded to strikeout Austin Guibor ending both the game and the playoff hopes for the HarbourCats. Storedahl was credited with his third save of the season.
With the win, the Bells have kept pace with the Kelowna Falcons for the second seed in the West Coast League playoff picture. Currently the Bells sit a half game behind the Falcons for the second spot.
With one game left in the regular season the Bells will look to take the series behind Justin Courtney. Game time is scheduled for 3:05 p.m. with Erik Oas on the call for a 2:35 pregame show.