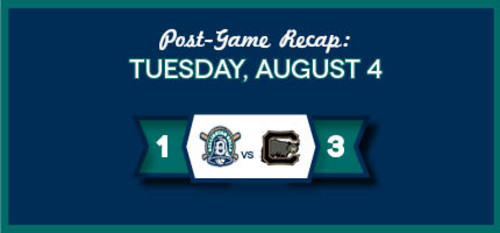 08/05/2015 7:17 AM
Bellingham Bells (30-19) hitters struggled to find their groove on Tuesday night, managing just one run in a 3-1 loss to the Cowlitz Black Bears (19-30).
An unfortunate theme continued for the Bells as Black Bears starter Chris Castellanos (4-1) made his third start of the year against the Bells and for the third time threw them to a win.
Castellanos was on Tuesday night, keeping Bells hitters off balance for seven innings with an assortment of off-speed pitches.
"That curveball of his was able to keep us off balance tonight," noted assistant coach Mike Gange. Castellanos tied a personal season best with eight strikeouts and was seldom tested in his second longest outing of the year.
For five innings, the Bells had just two hits to show for their night with neither runner managing to reach third base.
In the sixth, the Bells finally broke through for their only run of the night when Ethan Paul walked and was followed by a KJ Brady double to lead off the inning. Paul scored when the next batter, Dustin Breshears, lifted a sacrifice fly to center. Brady also moved down to third on the fly out but did not score when Castellanos set down the next two Bells weakly to end the threat.
"Our offense is in a bit of a slump right now," Gange said of the offensive performance. "After starting the last road trip with our bats on fire they have definitely cooled off over our last three games."
Equally as impressive on the night was Bells' starter Zach Johnson (2-3). Johnson, who last pitched at Story Field on July 13th and got the loss despite giving up only one hit, gave the Bells six strong innings but was tabbed with another tough luck loss.
The Black Bears scored their first run of the night with a two out triple from Lorin Archibald and wild pitch from Johnson. One run was all that came during the inning, which included one of two Johnson pickoffs for the night.
"It's pretty remarkable what he can do with his move," said assistant coach Dane Siegfried of Johnson's pickoff move before the game. Adding, "It's the best I've ever seen."
Johnson did have Black Bears right fielder Issac Benard picked off in the fourth inning following a leadoff single but the rundown was botched and turned into a stolen base. Benard later scored through a combination of a wild pitch and sacrifice fly.
After Johnson left following the sixth inning, Bells' reliever Brice Longanecker entered and allowed a run to cross as he failed to get out of the inning.
The 3-1 lead would hold up for the Black Bears after Seth Reyburn and Lars Rider combined to shut out the Bells the rest of the way.
Tomorrow, the Bells will turn to their ace Andrew Kemmerer in game two of the three game series with the Black Bears. First pitch is scheduled for 6:35 with Erik Oas on the call for a 6:20 pregame show.