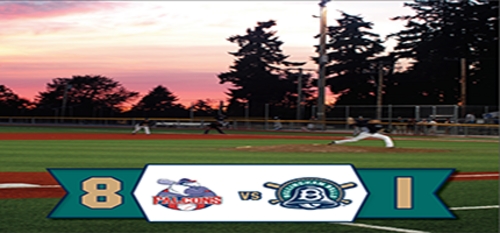 08/02/2015 9:12 AM
Bellingham Bells' (30-17) bats were kept silent Saturday night by Kelwona Falcons' (29-17) pitching, in an 8-1 loss.
Starter for the Bells Reagan Todd (2-3) threw the ball extremely well over his six innings of work but was haunted by a shaky first inning in which he gave up two runs.
"Todd had a little trouble finding the strike zone in the first," said assistant coach Mike Gange of the lefty's outing. "But after the first he was real sharp and settled into a groove."
Todd was in a groove. From the end of the first until two outs into the sixth he set down 14 consecutive Falcon batters. But due to a lack of run support was hung with the loss, his third of the year.
The Bells only run of the night came in the third inning. Ethan Paul made his Bells debut and in his first at-bat doubled to left and scored five pitches later on a combination of a pass ball and Lou Della Fera groundout. The run cut the Falcon lead to 2-1, but the inning could have been much more when the bases were left loaded.
"We had our chances tonight," said Gange. "We just couldn't get the hit with runners in scoring position."
Rallies in the third, fourth and fifth innings netted just one run and contributed to eight men being left on base by night's end.
The pitching for the Falcons was led by starter Brady Miller (6-0) who kept Bells batters off balance during his six inning outing. He struck out six to earn his sixth consecutive win of the year.
After a dominant pitching performance from the Bells bullpen last night, they faltered late in the game Saturday night, which put the game out of reach for good. Nate Higa worked the seventh and allowed a run and was followed by Spencer Howard, who worked the eighth, allowing two runs. Channing Nesbitt then allowed three in the ninth, turning a once close game into an 8-1 blowout.
The loss has the Bells just a half-game ahead of the Falcons for the second spot in the playoff picture. The loss also has kept the magic number at 3 to clinch the Western Division title.
Justin Courtney will take the ball for the Bells tomorrow in his first start of the year. The rubber game will be played at 3:05 p.m. with Erik Oas on the call for a 2:35 pregame show.