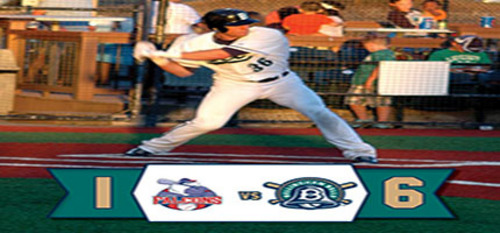 08/01/2015 9:48 AM
In a potential playoff preview, the Bellingham Bells (30-16) took the first game of the series against fellow first place team, the Kelowna Falcons (28-17).
For eight innings, it was a pitchers duel at Joe Martin Field. The Bells were led by all-star Justin Calomeni, who turned in six solid innings.
A solo home run to Vinny Esposito in the third inning was all the offense the Falcons mustered against Calomeni, who was otherwise spectactular in what was his third win of the year.
The Bells sent a succession of three relievers after Calomeni to complete a 6-1 win. Brice Longanecker, Hunter Haworth, and Riley Storedahl came out of the Bells bullpen and would not allow a run in three perfect innings of relief.
The offense started for the Bells in the second inning. Joey Harris doubled to leadoff the inning and came into score on a Beau Branton single for the first run of the game.
In the following inning, Aaron Stroosma started a rally all on his own. Stroosma walked with one out and immediately stole second to tie the West Coast League single season record. On the next pitch, Stroosma broke the record set by Grant Melker last season by stealing third and then coming into score on a wild throw by Kelowna Falcons catcher Scout Villanueva.
The Bells held onto a one-run lead most of the way until a four run eighth inning blew the game wide open for a 6-1 victory.
The win knocks the Bells' magic number down to three and has them with a game and half lead on the Kelowna Falcons for home field advantage in a potential playoff series.
Tomorrow, the Bells go for the series win behind Reagan Todd at 7:05 p.m. Erik Oas will be on the call at 930 KBAI with a 6:35 p.m. pregame show.