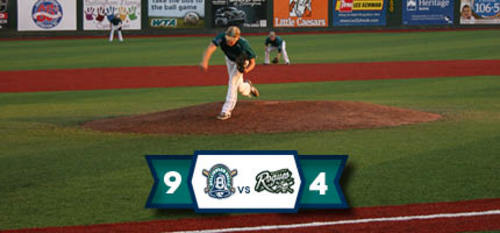 07/27/2015 7:55 AM
Reagan Todd flirted with a no hitter into the seventh inning Sunday night at Harry and David Field and was backed up by a Bellingham Bells (27-15) offense that was equally as impressive in a 9-4 win.
"It was a return to normalcy for our [pitching] staff," said assistant coach Mike Gange. "Tonight we played defense, hit the ball well, and pitched very well. Reagan [Todd] has been so sharp for us as of late and our success tonight started with his pitching performance."
Just like a night ago, the Bells offense came racing out of the gate to put up a run in the first inning. Medford Rogues starter Billy Olson (2-1) walked the second hitter of the inning, Aaron Stroosma who wasted no time in stealing second on the next pitch. It was the second straight night Stroosma stole two bags, upping his lead in the West Coast League (WCL) to 25, just four shy of the WCL record set last season by Corvallis Knight Grant Melker.
Stroosma came into score when the next batter Chris Beall singled to left center. Beall would be the pace setter for the Bells offense on this night.
Following a three hit game last night, Beall collected another three hits Sunday night and knocked in three of the Bells nine runs. One of those hits sparked a three run rally in the fourth. Beall doubled to leadoff the inning and came home on a Bronson Larson's sixth home run of the season.
Reagan Todd (2-2) did not need much support on this night. He carved up Rogues hitters for six innings, never racking up strikeouts but keeping them off balance with an effective mix of fastballs, curveballs, and changeups.
Todd allowed just two base runners to reach in six innings. An error in the second and a walk in the third were the only base runners the Rogues managed for an offense that had set a team record for hits in a game just one night ago.
"We needed that," said Gange said. "Performances like that are exactly what you need to get knocked back on track."
Todd's no hit bid came to an end on a leadoff triple from Dan Meyer in the bottom of the seventh. Todd stayed in to give up a single and walk which knocked him out of the game before he could record an out in the inning. He received the win to stretch his winning streak to three and end a tide of consistent Rogues offense through the first two games of the series.
"After Todd, our bullpen came in to close out our win," said Mike Gange. "Brian Way worked the ninth and continues to be a great weapon for us to close out games."
Way set down the Rogues 1-2-3 to trim the Bells' magic number down to seven.
Tomorrow the Bells will take the day off before beginning a three game series against the Bend Elks in Bend. Tuesday's game will see Zach Johnson take the ball for a 7:05 first pitch. Erik Oas will be on the call at www.bellinghambells.com with a 6:50 pregame show.