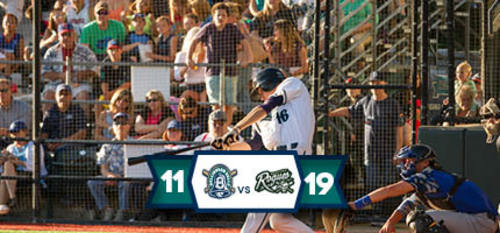 07/26/2015 7:49 AM
The Medford Rogues blew out the Bellingham Bells Saturday night with an avalanche of offense, as Bells' pitching faltered for the second straight night in a 19-11 loss.
When the game began, it was all Bells early on. Aaron Stroosma walked, stole second and was brought home two batters later on a Walker Olis RBI single. Stroosma's steal was just one of two that he would tally on the evening, to up his West Coast League best total to 23.
Following the first inning, the Bells came up with two more runs in the second inning. Joey Harris doubled to kick off the rally and scored on a Johnny Kainne error. Aaron Stroosma added an RBI single and the Bells had jumped out to an early 3-0 lead off Rogues' starter Jackson Bertsch (3-3).
But from the second inning, starter Grant Schneider would struggle keep the Rogues offense at bay. After escaping a bases loaded jam in the first the Rogues loaded the bases again in the second. This time the Rogues capitalized on the opportunity. Rogue shortstop Daniel Patzlaff lifted a fly ball to left for an RBI sacrifice fly and then Dan Meyer followed with a three run home run to left. It was Meyer's 11th home run of the season and broke the West Coast League team record for home runs in a single season. It also gave the Rogues a 4-3 lead they would not relinquish.
Three more runs were scored off Schneider in the fourth, stretching the Rogues lead to 7-3. Schneider would end his night finishing four innings and being credited with the loss.
But the big damage was done in the home half of the fifth inning. Cody Anderson entered the game and would be unable to get out of the frame until nine runs were plated by the Rogues, an inning where they sent 13 batters to the plate to put the game away at 15-3.
While the Bells offense battled back all night, it was not enough to surmount the nine run fifth inning. Bells hitters came up with 16 hits and 11 runs both which were both the most on the season in a game. Both teams combined for 36 total hits and 30 runs of total offense.
"Still proud the way we battled, battled and battled all night," said assistant coach Mike Gange. "It's easy to quit there (the fifth inning) but we didn't, and we know that this was just an uncharacteristic night for a great pitching staff."
It was also the first time that the Bells have lost two games to start a series all year and is just the third series loss of the seaosn.
Tomorrow the Bells will try and avoid the sweep behind left-hander Reagan Todd. Erik Oas will be on the call with a 6:05 pregame show, first pitch is scheduled for 6:35.