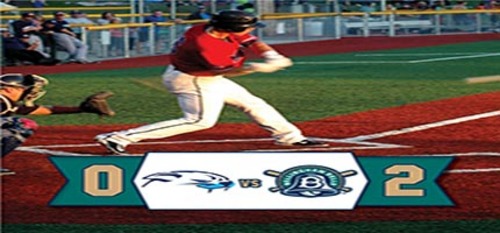 07/24/2015 7:11 AM
In six straight games against the Victoria HarbourCats (18-21), the Bellingham Bells have been played tough but managed to outlast HarbourCat pitching for a 5-1 mark in that span. Thursday night at Joe Martin Field was no different, as the Bells managed a 2-0 win turned in largely by the pitching.
Andrew Kemmerer (2-0) started for the Bells and made his first appearance since starting the All-Star Game for the North All-Stars. Kemmerer earned his All-Star Game nod after leading the Bells in ERA as well as innings pitched.
Kemmerer turned in one of his best outings of the season. He lasted seven innings and only allowed three HarbourCats to reach base in seven shutout innings. Kemmerer also set a personal high for strikeouts with seven in the outing and only allowed one walk.
"Anytime you have a guy like [Andrew] Kemmerer taking the ball you have a chance," said bullpen arm Spencer Howard. "[Pitching Coach] Jim Clem puts us in such good position to follow a great pitching performance like Kemmerer gave us tonight."
Kemmerer allowed very little in his long outing. He walked just one, the only walk allowed by Bells' pitching all night, and gave up just two hits. When the night was over, just four HarbourCats managed to reach in what was truly a dominate performance by Bells pitching.
Offensively, the Bells plated just two runs despite 10 hits. In the bottom of the second inning, the Bells took advantage of two one out walks issued by Dominic Topoozian (3-4) to start a rally. Two batters later, Jesse Kuet drove in Walker Olis with an RBI single for a 1-0 lead. The hit was one of four singles in a 4-4 night for Kuet.
"It's funny how baseball works sometimes," said Kuet. "Tonight I had a bloop down the left field line, a ball off the third baseman (originally scored an error], but it turned out to be a four for four night and we managed just two runs all night, so we needed every hit we could get."
Bells' hitters pushed one more run across on a Chris Beall RBI double in the bottom of the fifth inning to take a 2-0 lead.
Despite 10 hits by Bells hitters, they mustered just one extra base hit, leaning heavily on a great pitching performance.
Spencer Howard followed Kemmerer with a shutout inning of relief in the eighth and was followed by a 1-2-3 save from Brian Way in the ninth. It was Way's fifth save of the season, a team best, shrinking the Bells magic number to clinch the Western Division down to eight.
The win has the Bells at a perfect seven for seven in series at home this season and eight games atop the Western Division.
Following the win, the Bells will begin a six game road trip with three games against the Medford Rogues at Harry and David Field. Erik Oas will be on the call with a 6:05 pregame show and 6:35 first pitch.