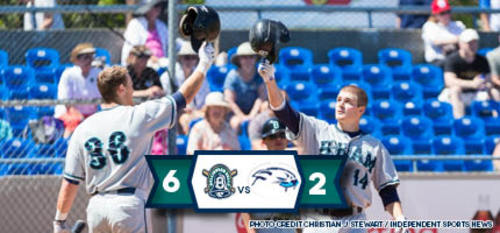 07/18/2015 9:08 PM
Bellingham Bells' (24-12) hitters continued to hit at Royal Athletic Park, slugging two more home runs off of Victoria HarbourCats (17-19) pitching to complete the sweep with a 6-2 win Saturday afternoon.
The Bells racked off 12 hits to reach double digits for the third consecutive game. It was the best series for the Bells this season offensively. In the three days in Victoria the Bells put up twenty runs to record their second sweep of the season.
"We were able to put up some runs here," said assistant coach Mike Gange. "It was great to give our pitchers the support that was missing last series in Cowlitz."
The scoring for the Bells started in the first inning after starter Henry Omana (1-2) issued two walks to Aaron Stroosma and Chris Beall. Stroosma came into score two batters later on a Bronson Larsen sacrifice fly.
Reagan Todd (1-2), started for the Bells and worked five innings to earn his first league win of the year. He allowed two runs, only one of which was earned, and mostly led in his sixth start of the season.
The HarbourCats never led but managed to briefly tie the game off of Todd in the second inning. Ben Polshuck led the inning off with a single moved to second after a walk and stole third. The next batter Scott Jarvis brought home Polshuck in with a ground ball to second base.
The tie was broken in the third inning on Dustin Breshears' third home run of the year. Another run was added in the fifth inning when Stroosma hit a no doubt home run to left field, his first of the season.
Leading 3-2 in the sixth inning the Bells' bullpen took over to shut out the HarbourCats the rest of the way. Channing Nesbitt, Spencer Howard and Riley Storedahl combined for the shutout work out of the pen and contributed to 11 strikeouts collectively, second most in a game on the season.
"It definitely felt like we were able to put together better at-bats together here [in Victoria]," said all-star shortstop Dustin Breshears. "We were more patient and were able to put up runs throughout the game. Against a division opponent who was playing as well as them [HarbourCats] these we were big wins for us."
Patrick McGrath added a big two RBI double in the eighth to put the game out of reach. After taking a 5-2 lead, another run was added by the Bells in the ninth on a Andrew Reichenbach single.
The 6-2 win now has the Bells with a seven game lead atop the Western division heading into the two game all-star break. After the break the Bells will welcome in the Victoria HarbourCats for a three game series at Joe Martin Field.