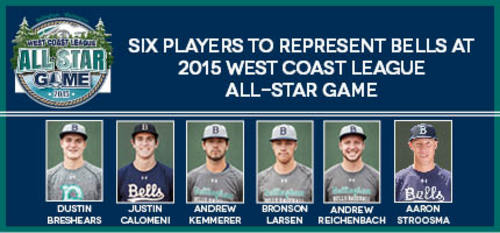 07/13/2015 1:01 PM
Six players will represent the Bellingham Bells at the 2015 West Coast League All Star Game, which will be hosted by the Bellingham Bells at Joe Martin Field on Monday, July 20th.
The North squad—made up of players from host team Bellingham, Kelowna, Victoria, Walla Walla, Wenatchee and Yakima—will be managed by Jeff James, head coach of the 2014 West Coast League champion Bellingham Bells. The South team—comprised of players from Bend, Cowlitz, Corvallis, Kitsap, Klamath Falls and Medford—will be coached by Corvallis Knights' manager Brooke Knight.
The Bells will be represented on the North squad by six players: Dustin Breshears, Justin Calomeni, Andrew Kemmerer, Bronson Larsen, Andrew Reichenbach and Aaron Stroosma.
Two infielders will represent the Bells: shortstop Dustin Breshears and first baseman Andrew Reichenbach. Breshears, a member of the 2014 Bells WCL Championship team, is hitting .273 on the season with two home runs & 12 RBI. Reichenbach has tallied 21 hits on the season with one home run and 10 RBI, maintaining a .318 average through the first half of the season.
Catcher Bronson Larsen will represent the Bells as one of two catchers on the WCL North Team. In addition to stellar defensive play behind the plate, Larsen is hitting .333 on the season with 5 home runs, leaving him only home run one shy of the Bells' all-time career home record by an individual (6).
Second-year Bell Aaron Stroosma represents the Bells as the lone outfielder. Stroosma has 24 stolen bases on the season, leaving him 2 away from the Bells' single season stolen bases record (26).
Pitchers Justin Calomeni and Andrew Kemmerer round out the Bells' selections on the WCL North Team. Calomeni, a right-handed starter for the Bells, has a 1.45 ERA on the season with 13 strikeouts and only 2 walks. Kemmerer, also a right-handed starter on the Bells' staff, has maintained a 1.18 ERA through 30.1 innings of work with 19 strikeouts.
All-Star Game Festivities on Monday, July 20th will kick off with a Home Run Derby starting at 5:30 p.m. First pitch for the 2015 West Coast League All-Star Game will take place at 7:05 p.m. Gates will open to the general public at 4:30 p.m. and the first 1,000 fans through the gate will receive a All-Star Game logo baseball, presented by John Howie Restaurants. The game will be followed by post-game awards and a fireworks show.