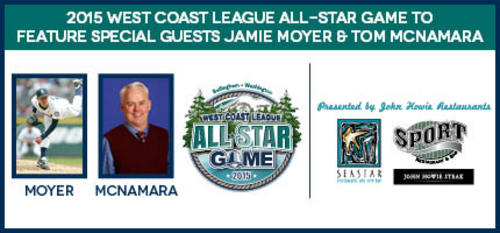 07/13/2015 12:37 PM
The Bellingham Bells are excited to announce that future Seattle Mariner Hall of Famer Jamie Moyer & Seattle Mariners' director of amateur scouting Tom McNamara will be in attendance for the 2015 West Coast League All-Star Game, held at Joe Martin Field in Bellingham.
"We are honored to have Jamie and Tom take the time to join us for this special event," Bells' general manager Nick Caples said. "We know that the participants will really enjoy being able to interact with them and that they will help to make this an extra special All-Star Game here in Bellingham."
Moyer had an incredibly successful 25 year career (spanning four decades) in the big leagues playing for eight different teams. He had an 11 year run with the Seattle Mariners and he will be inducted into the club's Hall of Fame later this summer; he still leads the franchise with most career wins (145). Jamie also won a world series with the Philadelphia Phillies in 2008. After retiring in 2011, Moyer and his wife Karen have devoted their time to The Moyer Foundation, which supports programs that directly serve the critical needs of children in distress.
Moyer will be joined by Tom McNamara of the Seattle Mariners. McNamara was named director of amateur scouting for the Seattle Mariners in 2008 after 15 years as a professional scout and oversees all levels of amateur scouting for the Mariners, as well as the annual MLB June Amateur Draft. McNamara played one season in the Seattle Mariners organization, in Bellingham for the Bellingham Mariners.
The All-Star Game will feature a competition of the North squad—made up of players from host team Bellingham, Kelowna, Victoria, Walla Walla, Wenatchee and Yakima—will be managed by Jeff James, head coach of the 2014 West Coast League champion Bellingham Bells. The South team—comprised of players from Bend, Cowlitz, Corvallis, Kitsap, Klamath Falls and Medford—will be coached by Corvallis Knights' manager Brooke Knight.
Festivities on Monday, July 20th will begin with a Home Run Derby derby starting at 5:30 p.m. First pitch for the All-Star Game will take place at 7:05 p.m. Gates will open to the general public at 4:30 p.m. and the first 1,000 fans through the gate will receive an All-Star Game logo baseball, presented by John Howie Restaurants. The game will be followed by a post-game awards ceremony and a fireworks show (provided local burn bans are lifted).