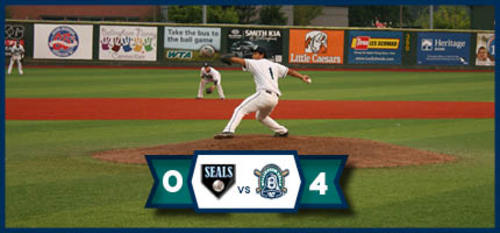 07/11/2015 10:01 AM
A four run second inning was all the Bells needed Friday night at Joe Martin Field to beat the San Francisco Seals, 4-0.
Before the game, Bells' coaching staff called this a "staff day" making it known their plan to use a lot of pitchers. When the dust settled from the night, the Bells had used five pitchers, the most all season in a single game.
Reagan Todd started for the Bells and had the strikeout pitch working. He worked five shutout innings while racking up seven strikeouts and collecting the win.
Early on, the Bells appeared to have no trouble getting to Seals starter Jim Plouger. Plouger escaped a jam in the first inning with a double play ball that kept the game scoreless but ran out of luck in the second.
The inning started off well for Plouger who sat down the first two batters of the inning before Chase Scott ignited a rally with a double to dead center field. Walker Olis followed with the longest at-bat of the night; working ten pitches out of Plouger before taking the walk. KJ Brady came up next and singled to the right side of the infield to load the bases. Dustin Breshears turned in another long at-bat that ended in a walk, forcing in the first run of the game, and Aaron Stroosma followed with a single that cleared the bases but was thrown out trying to make it to second. The single gave the Bells a 4-0 lead they would not relinquish.
The Bells bullpen was equally as impressive following Reagan Todd. Starting with Hunter Haworth, all four of the Bells' relievers worked an inning of shutout ball. Haworth was followed by Nate Higa, who was relieved by Brice Longanecker. Longanecker then turned it over to Justin Courtney to give the Bells their fourth shutout as a team.
Since the win came against a non-league opponent the Bells do not add to their 20-10 record. The Bells now have a six and half game lead atop the Western Division.
Tomorrow the Bells wrap up non-league play with game two of this two game series at 7:05 p.m. Erik Oas will be on the call with a 6:35 pregame show on AM930 KBAI.