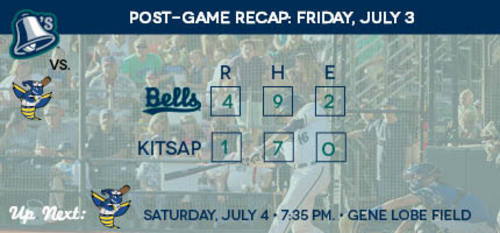 07/05/2015 4:10 PM
The next 14 games for the Bells will go a long way in determining the winner of the Western Division. Friday night begins a stretch of 15 consecutive games against divisional opponents and the Bells began the stretch with a 4-1 win at Gene Lobe Field.
"When the summer is over you can look back on this stretch and say we either won or lost the division in this stretch," said assistant coach Dane Siegfried before the game.
On the way to the game the Bells were dealt a blow. Starter, Justin Calomeni was scratched with flu-like symptoms forcing the Bells to adjust. They tapped Brian Way for the spot start looking for a couple of innings before the bullpen took over. What they got was four shutout innings.
"You can't really say enough about the start we got from Brian [Way] tonight," said assistant coach Mike Gange. "To win a game like this, against a divisional rival, was huge. It sets us up to really put some distance between us and our division."
The pitching of Way was picked up by the arms that followed. Cody Anderson (1-0) and Hunter Haworth followed Way and shut down the BlueJackets until a run was pushed across to make it 4-1.
The offense for the Bells had trouble figuring out BlueJackets starter Nate Simmons (1-1) for three innings. In the third, the Bells managed to manufacture a run from a leadoff single by Beau Branton. Branton stole second, moved to third on a ground out, and scored on a Patrick McGrath sacrifice fly, giving the Bells a 1-0 lead.
"We continued to add on," said Joey Harris, who went three for four. "It's always big to add on, and when you look back it was the difference."
The Bells added on in the seventh and ninth inning. In the seventh inning the Bells scored twice, first Walker Olis lead off the inning with a home run to left for his third of the year and fifth as a Bell. Another run came across in the inning when Joey Harris singled and moved to third on a Beau Branton double and came into score on a KJ Brady ground ball.
In the top of the ninth inning, the scoring came to an end after a two out RBI single by Beau Branton plated Joey Harris. It was Branton's third hit of the night.
The win for the Bells over the BlueJackets has them four and half games atop the Western Division.
The Bells will play tomorrow at 7:35 p.m. with Reagan Todd as the scheduled starter. Erik Oas will be on the call with a 7:05 pregame show.