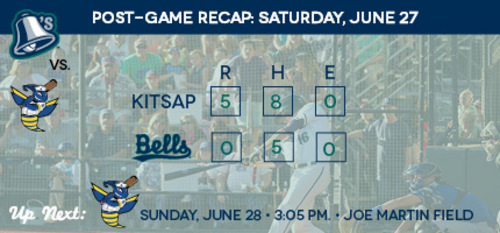 06/28/2015 9:10 AM
For a brief moment in Saturday nights game at Joe Martin Field, many were thinking "no-hitter." Bells Starter Reagan Todd and the BlueJackets' Adam Cline both set down the first nine batters, they faced but the BlueJackets would ride a four run fifth inning to a 5-0 win.
It was the first time the Bells have been shut out this year and it was the BlueJackets' first shutout of the season.
Adam Cline not only threw well but dominated, striking out nine Bells hitters in his seven innings of work.
"He kept us off balance all night," said assistant coach Mike Gange. "You really have to tip your cap to them, we just ran into a well-pitched game tonight."
The Bells' offense was unable to muster a hit until Jesse Kuet's infield single with two outs in the fourth inning. Nothing came of the opportunity for the Bells, who got just one runner to third off of Cline.
Reagan Todd took the ball for the Bells and threw up zeros through the fourth inning. But in the fifth, Todd lost command of the strike zone and the BlueJackets jumped on the opportunity to score four runs and knock Todd out of the game.
"It's a shame that the outing had to end that way," said Reagan Todd of his performance. "I lost command a little after some calls didn't go my way but to their credit they capitalized on my mistakes."
The BlueJackets who have struggled to hit extra base hits this season, failed to hit any Saturday night having all of their seven hits go for singles. And after the fourth inning they added one more to take a 5-0 lead.
"They didn't have big hits tonight [extra base hits]," Gange said. "But they came in pick spots after we had given away some free bases with the walk."
The Bells did threaten in the eighth and ninth innings, managing to load the bases in each of those innings only to be turned away with nothing to show for it. In the bottom of the ninth the Bells managed to load the bases with nobody out but saw the inning turn a Patrick McGrath comebacker to the mound into a double play that kept the game scoreless.
"We just failed to get that big hit with runners in scoring position tonight," Gange said. "Luckily, with the win in game one of this series we have a chance to go for the series win tomorrow."
Reagan Todd is now 0-2 on the season while Adam Cline improves to 2-0.
The Bells loss to the BlueJackets has cut their lead atop the Western Division to one and half games. They will go for the series win Sunday behind right-hander Kyle Rossman at 3:05 p.m. Erik Oas will be on the call at 930 KBAI with a 2:35 pre-game show.